Snapchat Hack – How to Draw with Details on Snapchat

Do you like doodling on Snapchat? Are you an artist using the platform? Would you like to take your drawings up a notch? Have you ever wondered how certain artist's drawings on Snapchat look extremely well done while others do not?  Snapchat influencer and celebrity Mike Platco (better known as mplatco in the Snapchat world) revealed a big juicy secret that, I'm sure many of us were not aware of and did not realize was possible until just recently.
So how do you draw in those hard to reach areas and add details to your art like mplacto?? It's so simple, it's RIDICULOUS! Here it is: you can do that, by enabling the ZOOM feature on your mobile device! While the Snapchat App doesn't have a built in zoom featured, your mobile device does! Crazy right?  The zoom feature will allow you to get more details and reach areas you did not know was possible. Here's how to activate the zoom feature on your IOS or Android device.
On iOS:
Launch Settings.
Tap on General.
Tap on Accessibility.
Under the Vision section, tap on Zoom.
Turn Zoom on.
On Android:
Launch Settings.
Tap on Accessibility.
Tap on Vision.
Tap on Magnification Gestures.
Turn Zoom on.
Once activated, you will notice that there will be a window overlaying your screen that is zoomed into the area on your device. You can position this window anywhere on the screen.
Here are a few benefits to using this feature:
– Smoother lines
– Tight unreachable areas are easy too access
– Writing letters become cleaner
– Outlining your art is a lot easier
Final thoughts
This is a feature artists and doodlers definitely need to take advantage of. I've personally used it and it really makes a ton of difference as you create the next big idea. Try these setting out, test it and we would love to hear from you! Comment below!
Now go draw with details!
To see more from Mike, with your mobile device, click here or use the below Snapcode.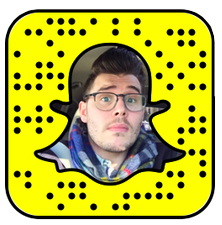 ---
If you're not connected with me on Snapchat yet, send me a request. My username is ShaunAyala, — I do follow back! =) Talk to you soon!
Want more Snapchat TIPS and ACTIONABLE TO-DOs? Subscribe and sign up for my FREE gift here, you will also stay up to date with the latest. Click here: bit.ly/1Lif0Aa
On snapchat? Scan the below Snapcode using the Snapchat app or click the link or image using your mobile device: http://www.Snapchat.com/add/shaunayala